I am super excited to share my first official
Epiphany Crafts
blog post! Easter is just over a week away, but there is still plenty of time to put together this super duper easy paper basket and paper carrots!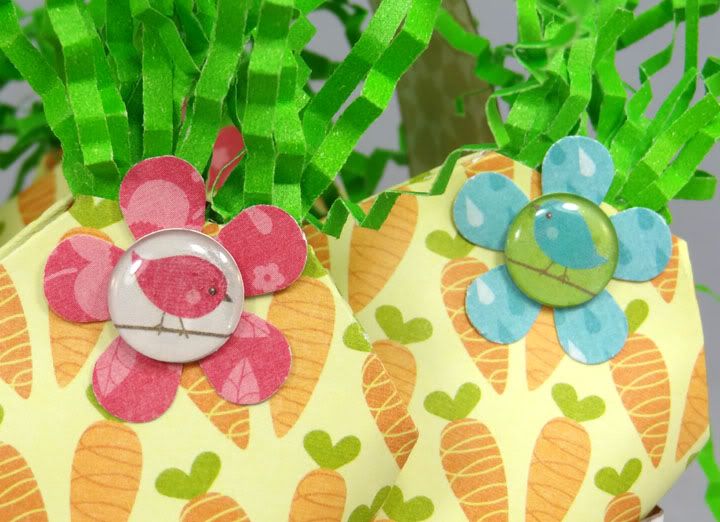 How to make a paper basket and carrots:
Supplies needed: paper, adhesive, scoreboard, ink (optional)
1. Start by cutting 7 strips of paper
Four 1 1/2"x10" (basket pieces)
One 1"x8" (handle)
Two 1/2"x10" (basket top)
Optional: Ink the edges of each piece for added dimension.
2. Score each of the four basket pieces at 3" and 7". Score both of the narrow top pieces every 4", starting at about 2 3/4".
3. Gently fold at score lines and weave the four basket pieces together, leaving a 1/4" (approx.) gap between each piece. Lightly adhere pieces together to keep in place.
4. Apply adhesive squares to the outside of each basket piece (hard to see in this pic) and add the narrow piece to the top of the basket. I found it easier to add the top pieces by working from the inside of the basket. Overlap pieces and trim where necessary.
5. Adhere the handle piece to the inside of the basket and you're done! Now it's ready to decorate and fill!
Finished size 4"x4"x3" (not including handle)
To make the carrots, make a cylinder out of a 4"x5" piece of paper, pinch one end closed and fold in the corners, making a crease. Using the creases as a guide, fold the corners to the inside, adhere Easter grass and seal. Fill the carrots with goodies and seal the bottom of the carrots.
Supplies:
Epiphany Crafts Shape Studio Tool Round 14 and Round 14 Bubble Caps
Epiphany Crafts Button Studio Tool Flower 20 and Flower 20 Buttons



Patterned paper (Studio Calico, Imaginisce, DCWV)
Baker's twine (The Twinery)
Ribbon (May Arts)
Flower punch (EK Success)
Ink (Distress Ink, ColorBox)
Stamp (Studio G)
Adhesive (Scrapbook Adhesives, Therm-o-web)
Scoreboard (Martha Stewart)
Easter grass
You can see more Easter treat ideas on Epiphany Crafts blog
HERE
.
May many Easter treats come your way!
-Amanda